Boost Your Career with a Sales & Marketing Certification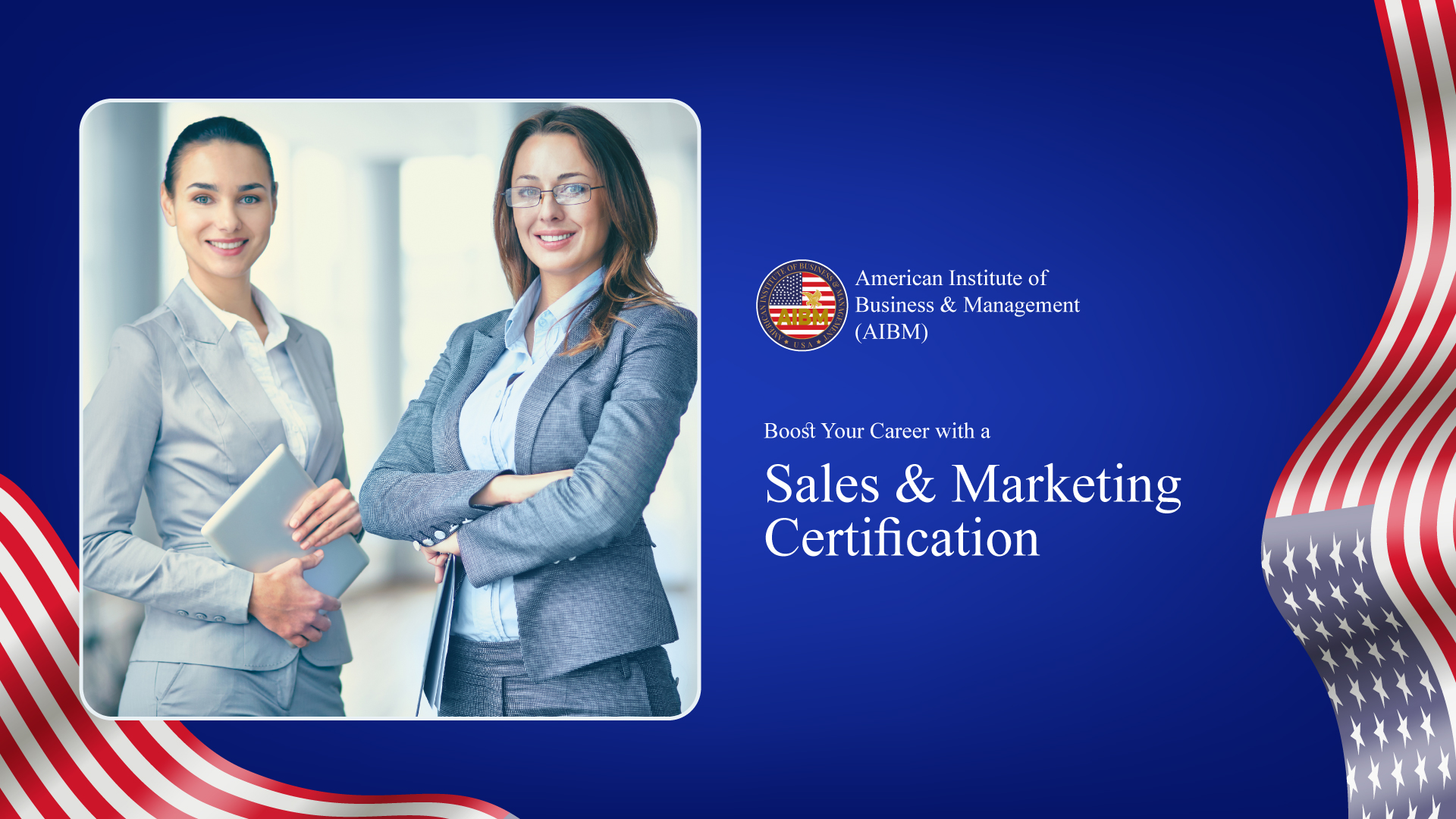 In today's dynamic and highly competitive business environment, persuasion and creativity alone are insufficient for sales and marketing success. It requires a comprehensive comprehension of consumer behavior, market trends, and the ever-changing digital landscape. Certified Sales and Marketing Professionals come into action here.
Becoming a Certified Sales & Marketing Professional is a transformative journey that empowers you with the knowledge, skills, and recognition necessary to excel in this field. This blog will discuss what it means to be a Certified Sales & Marketing Professional, the benefits of certification, and how to embark on this rewarding endeavor.
What is an Accredited Sales and Marketing Professional?
Certified Sales & Marketing Professionals are individuals who have received specialized sales and marketing training and certification. This certification verifies their proficiency in a variety of aspects of the field, including market research, consumer segmentation, strategic planning, and digital marketing.
Typical components of this certification include:
A comprehensive comprehension of sales and marketing principles, strategies, and techniques.
Abilities in digital marketing, including social media, SEO, email marketing, and content marketing.
Consumer Behavior: An understanding of consumer psychology and behavior for the development of successful marketing campaigns.
Ability to analyze marketing data and derive actionable insights.
Strategic Planning: the ability to create and implement effective sales and marketing strategies.
Chapter 2: Certification's Benefits
Becoming a Certified Sales & Marketing Professional has numerous professional and personal advantages:
Certification opens the door to positions with a higher level of responsibility and a greater earning potential.
It distinguishes you from your non-certified counterparts in a highly competitive job market.
Employers value certified professionals for their demonstrated abilities and expertise.
Industry Recognition: It provides recognition and credibility within the industry.
Possibilities for Networking: Access to a network of other certified professionals and industry leaders.
Certification requires continuing education, which keeps you abreast of industry trends.
How to Become a Certified Sales and Marketing Professional, Chapter 3
How can you begin this endeavor and become a Certified Sales and Marketing Professional? Here is a detailed guide:
Research and select a certification program as the initial step
Research credible certification programs to get started. Consider programs that align with your career objectives and encompass the fields in which you wish to specialize, such as digital marketing, sales strategy, or consumer behavior.
Step 2: Register for a Certification Program
After selecting a program, register for a certification course. These courses are frequently offered online, making it convenient to study at your own tempo while juggling other obligations.
Step 3: Prepare and Study
Devote time to extensively studying the course materials. Utilize the practice exams, resources, and assistance offered by the certification program.
Pass the Certification Examination
In the majority of certification programs, candidates must pass an examination to demonstrate their knowledge and abilities. Prepare thoroughly and only take the test when you feel confident.
Maintenance of Certification
Certifications frequently necessitate continuing education or recertification in order to remain current with industry developments. Continue to gain knowledge and develop your abilities.
Chapter 4: Success Stories from Real Life
Here are a few actual success tales of Certified Sales & Marketing Professionals to inspire you on your journey:
After obtaining her certification, Sarah secured a marketing manager position at a prominent technology company. Her knowledge of digital marketing strategies was crucial to the company's expansion.
Mark's certification in sales strategies propelled him to the position of sales director. His ability to create and implement effective sales strategies resulted in significant revenue growth for his company.
Linda's consumer behavior certification enabled her to become a sought-after marketing consultant. She assists businesses in gaining a deeper understanding of their target market and adapting their marketing strategies accordingly.
To sum up, Becoming a Certified Sales & Marketing Professional is a journey of transformation that can significantly improve your career prospects and personal development. Certification can be the key to unlocking your maximum potential, whether you are just entering the field or attempting to advance your career. Therefore, embark on this voyage, invest in your education, and position yourself as a leader in the dynamic world of marketing due to public. Your triumph lies ahead!