CEIAP Certification Demystified: Your Path to Environmental Expertise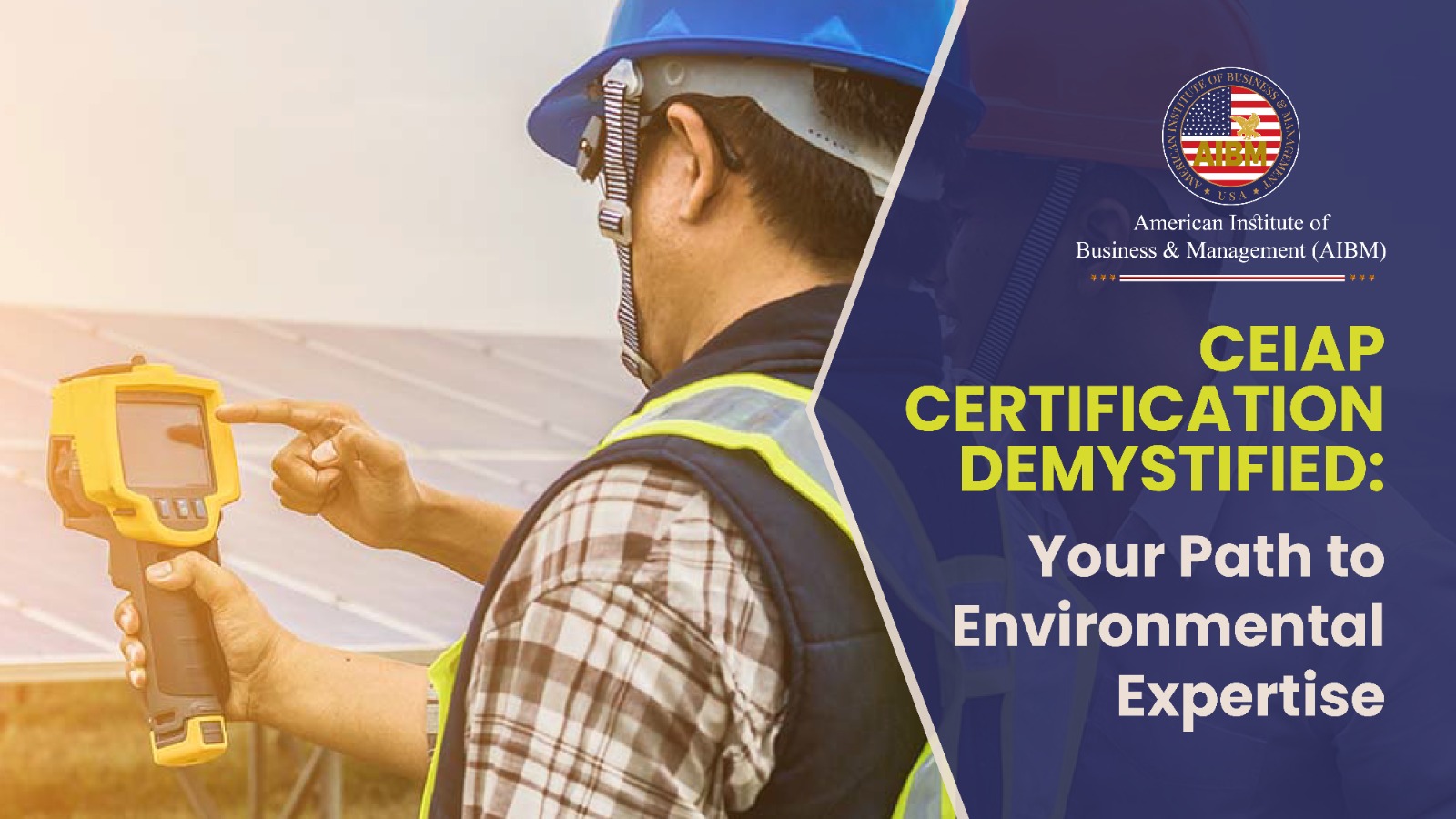 The demand for competent experts in environmental impact assessment has never been greater than it is in the modern world, when environmental concerns are at the forefront. The Certified Environment Impact Assessment Professional (CEIAP) credential is essential for elevating and recognizing individuals' level of skill in this area. By outlining its significance and going over how it might aid professionals in their quest for environmental knowledge, this blog post tries to demystify the CEIAP certification.
What's Vital About CEIAP Certification?
Professional Credibility: For environmental experts, CEIAP certification serves as a badge of respect. It certifies their expertise, abilities, and dedication to upholding the strictest environmental impact assessment criteria. The professional reputation and confidence of clients, employers, and stakeholders are improved by holding this certification.
Industry Acceptance: In the realm of environmental assessment, CEIAP accreditation is widely accepted and acknowledged. It establishes a standard for professionalism and knowledge, enabling businesses and organizations to find skilled candidates with the abilities needed to successfully manage challenging environmental projects.
Career Advancement: The CEIAP certification provides access to a wide range of employment possibilities. When looking for environmental assessment tasks, many firms look for qualified individuals, giving them an advantage in the employment market. Possessing the CEIAP certification may open doors to better-paying jobs with increasing levels of responsibility.
Expanded Knowledge and Skills: To earn a CEIAP certification, candidates must study extensively a number of environmental impact assessment-related topics, including as legal frameworks, stakeholder involvement, and environmental management systems. Through this process, their knowledge base is widened and they get the useful abilities needed to deal with challenging environmental issues.
How Professionals Can Benefit from CEIAP Certification
Enhanced Expertise: CEIAP holders have access to in-depth knowledge of environmental impact assessment procedures, techniques, and best practices thanks to the rigorous certification process that goes into getting the credential. They can give precise and thorough analyses of environmental hazards and impacts thanks to their experience.
Regulation Compliance: Professionals with CEIAP certification have a complete awareness of the legal and regulatory standards relating to environmental assessment. They can negotiate complicated compliance challenges and make sure that projects follow environmental legislation and standards thanks to their experience.
Effective Stakeholder involvement: CEIAP accreditation places a strong emphasis on the value of consultation and stakeholder involvement during the evaluation process. The ability to successfully engage stakeholders, promote cooperation, and include many viewpoints in decision-making processes is a competence that professionals with CEIAP certifications possess.
Project management that incorporates sustainable practices: CEIAP accreditation gives professionals the skills and resources they need to do this. They have received training in environmental risk identification, risk reduction strategies, and sustainable development.
Collaboration and networking: CEIAP certification gives professionals the chance to get in touch with a group of like-minded people. Professionals can keep up with the most recent developments in environmental assessment thanks to this network's encouragement of collaboration, knowledge-sharing, and the exchange of best practices.
To sum up, professionals looking to establish themselves as environmental specialists will find the CEIAP certification to be of tremendous benefit. Individuals can improve their professional reputation, open up a world of job prospects, and develop specific knowledge and abilities in environmental impact assessment by acquiring this widely recognized degree. Professionals can significantly contribute to sustainable development and environmental conservation by earning the CEIAP certification, which is a pathway to become a respected authority in environmental expertise. Therefore, if you want to access a wide range of chances and knowledge in the field of environmental assessment, the CEIAP certification is your key.