Certified Islamic Banking Product Specialist: Your Portal to Ethical Finance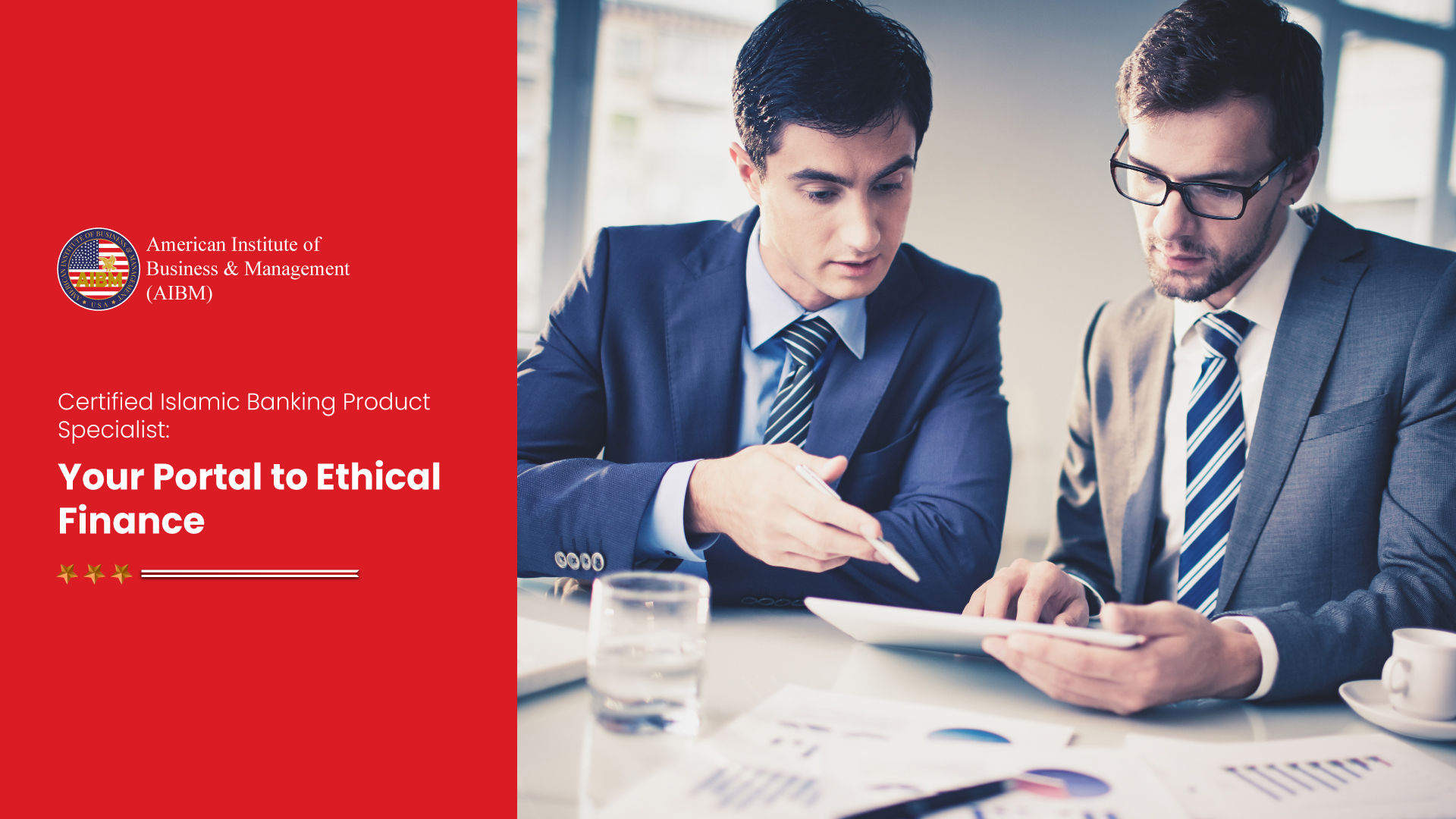 Islamic banking has risen to prominence as a viable and moral alternative in the ever-changing world of finance, where ethical considerations play a significant role. The Certified Islamic Banking Product Professional (CIBPP) credential demonstrates expertise in creating, managing, and promoting Sharia-compliant financial products for those seeking to specialize in this dynamic field. In this detailed guide, we will examine the world of Islamic banking, the significance of the CIBPP credential, and the steps required to become a certified professional in this field.
Comprehence of Islamic Banking
Sharia law prohibits the garnering or payment of interest (Riba) and encourages ethical and socially responsible financial practices. Instead of interest, Islamic banks provide financial services to consumers through profit-sharing arrangements, asset-backed financing, and risk-sharing agreements.
Key Islamic finance principles include:
Riba is rigorously prohibited in Islamic finance, as is the charging or receiving of interest. Instead, it emphasizes arrangements in which both the bank and the consumer share the risks and rewards.
Asset-supported Financing: Islamic finance necessitates that financial transactions be supported by tangible assets, guaranteeing that investments have real economic value.
Ethical screening prohibits investments in industries such as alcohol, gambling, and swine, in accordance with ethical and moral principles.
Risk-Sharing: Islamic finance promotes risk-sharing among all parties involved in financial transactions, thereby nurturing a sense of mutual accountability.
Certified Islamic Banking Product Professional (CIBPP) Function
The Certified Islamic Banking Product Professional (CIBPP) credential is an internationally recognized certification attesting to a candidate's proficiency in Islamic banking product development, administration, and promotion. Here's why this certification is crucial:
1. Evidence of Expertise
The in-depth knowledge of Islamic finance principles possessed by CIBPP holders makes them valuable assets for financial institutions seeking to provide Sharia-compliant products.
2. Improved Job Prospects
CIBPP-designated professionals are frequently at the vanguard of the burgeoning Islamic banking industry, resulting in exciting career opportunities.
Proponents of an ethical banking system
CIBPP professionals champion ethical and responsible banking practices, creating a positive impact on the financial industry.
Reputation in the Industry
Employers, financial institutions, and regulators around the world recognize and respect the CIBPP certification, further validating your expertise.
Obtaining Islamic Banking Product Professional Certification
Acquiring the CIBPP certification is a process that requires dedication, knowledge, and perseverance. Here's how to start down this path:
1. Meet Eligibility Criteria
Before pursuing the CIBPP certification, verify that you satisfy the eligibility requirements established by the certifying body. Typically, this includes relevant academic credentials and Islamic finance-related professional experience.
Choose a credible certification program that provides thorough training and preparation for the CIBPP examination. Typical topics covered by these programs include Islamic financial principles, product development, and regulatory compliance.
3. Study for the Exam
Devote sufficient time to studying and reviewing the course materials provided by the certification program of your choice. Utilize practice exams to gauge your level of preparedness.
Pass the CIBPP Examination
Register and take the CIBPP exam once you feel prepared. Ensure that you adhere to the exam's requirements and guidelines.
5. Preserve Certification
To maintain your CIBPP credential, you may be required to engage in ongoing professional development and abide by the certifying body's code of ethics.
The Influence of the CIBPP Certification
The CIBPP certification is more than just a credential; it is a commitment to ethical finance and a springboard to a rewarding career in Islamic banking. With this certification, you can contribute to the growth and sustainability of Sharia-compliant finance, advocate for ethical banking practices, and establish yourself as an industry authority.
To sum up, the Certified Islamic Banking Product Professional (CIBPP) credential represents a substantial opportunity for those wishing to specialize in the field of ethical finance. In addition to gaining expertise in Islamic banking, you contribute to a more responsible and ethical financial environment by pursuing this certification. The CIBPP credential opens doors to a successful profession in an industry that values honesty, social responsibility, and financial security. Start your journey to becoming a Certified Islamic Banking Product Professional today and make a lasting impact on the world of finance.