Certified Sales Account Manager Is Crucial for Sales Success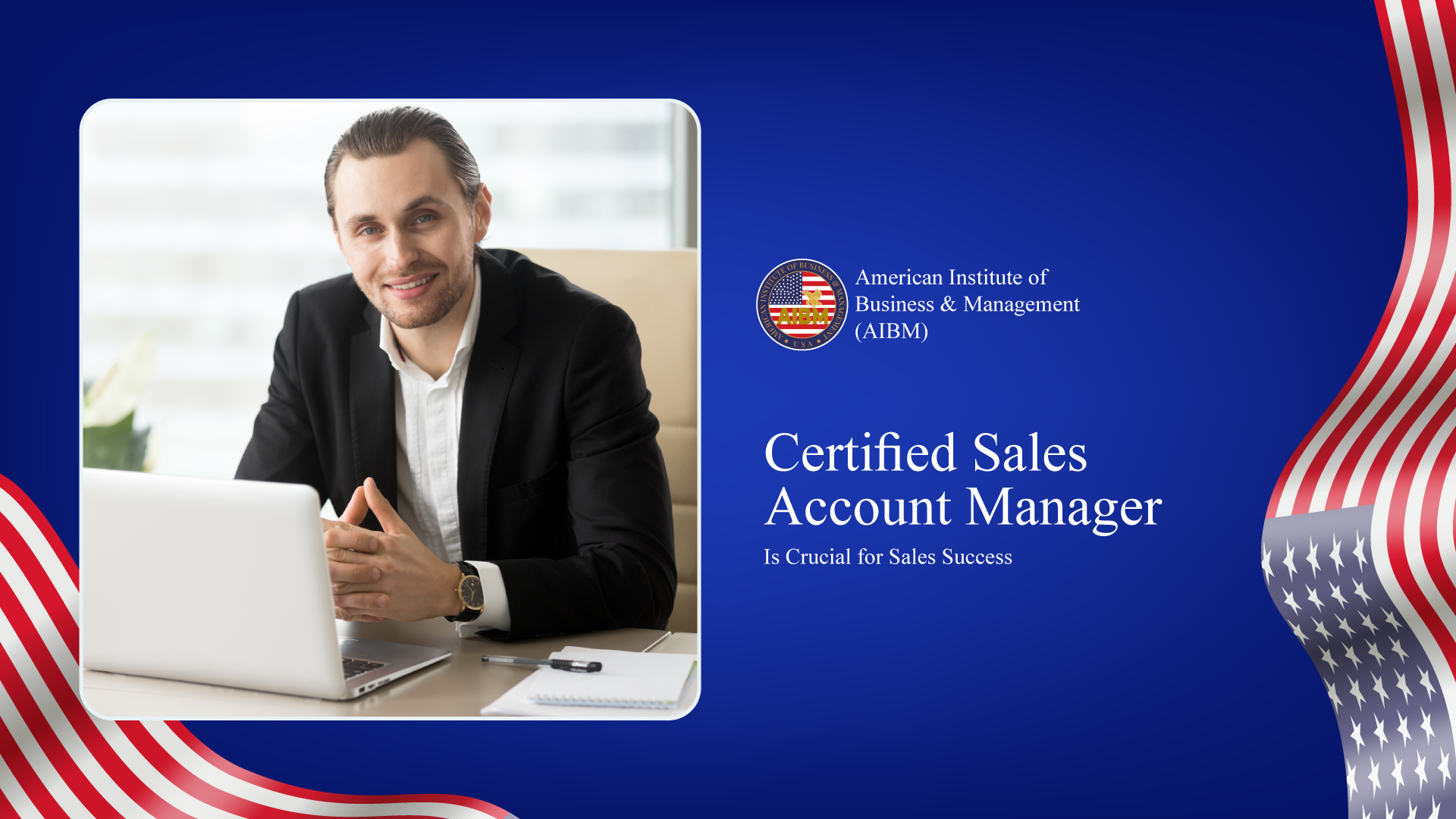 In the dynamic world of sales, where competition is fierce and consumer expectations are constantly changing, the Sales Account Manager's position is essential. These professionals are the fulcrum between a company and its clients, as they are responsible for establishing and sustaining profitable client relationships. The path to becoming a Certified Sales Account Manager is a journey filled with learning, development, and the acquisition of skills that can transform your sales career.
Understanding the Role of a Sales Account Manager
1.1 What Is an Account Manager for Sales?
A Sales Account Manager is an individual tasked with cultivating and managing relationships with critical clients. They act as a conduit between the company and its customers, ensuring that customer requirements are met and revenue targets are met. The role incorporates a variety of responsibilities, including account planning, customer communication, and the development of sales strategies.
1.2 The Evolving Sales Landscape
In recent years, the sales environment has undergone significant changes. Changes in consumer behavior, technological advancements, and globalization have reshaped how businesses approach sales. Consequently, the importance of Sales Account Managers has never been higher. They play a crucial role in adapting to these changes and ensuring that customer relationships remain robust in the digital era.
The Importance of Certification
2.1 What Is a Certified Account Sales Manager?
A Certified Sales Account Manager is a professional who has earned a recognized sales account management certification. This certification indicates that the individual has met specific educational and practical requirements and exhibited a high level of competence in the field. It conveys considerable weight within the sales industry and bolsters the credibility of the certified professional.
2.2 Qualification Advantages
Certification as a Sales Account Manager confers numerous advantages. Certified professionals typically enjoy enhanced career opportunities, increased earning potential, and a market advantage. In addition to providing a sense of accomplishment, certification demonstrates a dedication to professional development.
The Certification Process
3.1 Eligibility and essentials
To become a Certified Sales Account Manager, candidates must satisfy specific eligibility requirements, such as educational and professional requirements. These criteria may alter based on the certifying organization and program. Candidates should typically have experience in sales or a related profession.
3.2 Selecting an Appropriate Certification Program
Choosing the proper certification program is a crucial choice. Certifications for Sales Account Manager are offered by a variety of certifying bodies and institutions, each with its own curriculum and emphasis. Prospective candidates should investigate and evaluate these programs to determine which one aligns best with their career objectives and interests.
Certification Exam Preparation
4.1 Study Resources and Materials
Accessing a variety of study materials and resources is required for effective preparation for the certification exam. Textbooks, online courses, practice exams, and study guides may be included. A comprehensive study plan tailored to the exam's specific material is essential for success.
4.2 Exam Structure and Content
It is essential to comprehend the format and content of the certification exam. Candidates should familiarize themselves with the question categories, duration, and domains covered on the examination. This knowledge enables them to effectively concentrate their study efforts.
The Certification Examination Experience
5.1 Exam Success Hints
Not only does passing the certification examination require knowledge, but also effective test-taking strategies. Exam techniques that candidates should implement include time management, question prioritization, and preserving composure.
5.2 Exam Day Procedures
Candidates should come well-prepared on the day of the certification exam. This includes completing the registration procedure, ensuring that they have the proper identification, and managing any anxiety they may experience.
Benefits Following Certification
6.1 Profession Opportunities
Earning the Certified Sales Account Manager credential provides access to a variety of career opportunities. Certified professionals are valued by employers for their demonstrated expertise and dedication to the field. Consequently, certified individuals frequently have an advantage in job applications and promotions.
6.2 Professional Development
Certification is not the conclusion of a journey, but rather the commencement of a process of continuous professional development. Certified Sales Account Managers can advance their careers by networking with other professionals, keeping abreast of industry developments, and pursuing additional certifications or specializations.
Success in the Real World
7.1 Interviews with Accredited Sales Account Executives
To acquire insight into the impact of certification in the real world, we interviewed Certified Sales Account Managers who have been through the process themselves. Their experiences provide valuable insights into how certification can positively impact a person's career and professional development.
Certification Maintenance
8.1 Required Continuing Education
Certification maintenance necessitates an ongoing commitment. The majority of certifying bodies require certified professionals to engage in ongoing education and professional development. These requirements ensure that certified individuals maintain their expertise and remain current with industry developments.
8.2 Developing Your Profession
Certified professionals can advance their professions by seeking opportunities for mentoring, leadership, and industry influence, in addition to maintaining their certifications. Becoming a mentor or thought leader in the field can strengthen one's reputation and open the door to new opportunities and challenges.
To sum up, Becoming a Certified Sales Account Manager is a major career achievement in sales. It offers numerous advantages, including career advancement, increased earning potential, and recognition in the industry. This blog post has provided a comprehensive overview of the function of Sales Account Managers, the significance of certification, and the steps necessary to obtain this certification. Obtaining certification can be a transformative experience that opens doors to new opportunities and challenges in the world of sales, whether you are a sales professional seeking to advance your career or an aspiring Sales Account Manager. Embrace the path to becoming a Certified Sales Account Manager, and your sales career will flourish.