How the Certified Treasury Professional Designation Can Transform Your Career: The Power of Expertise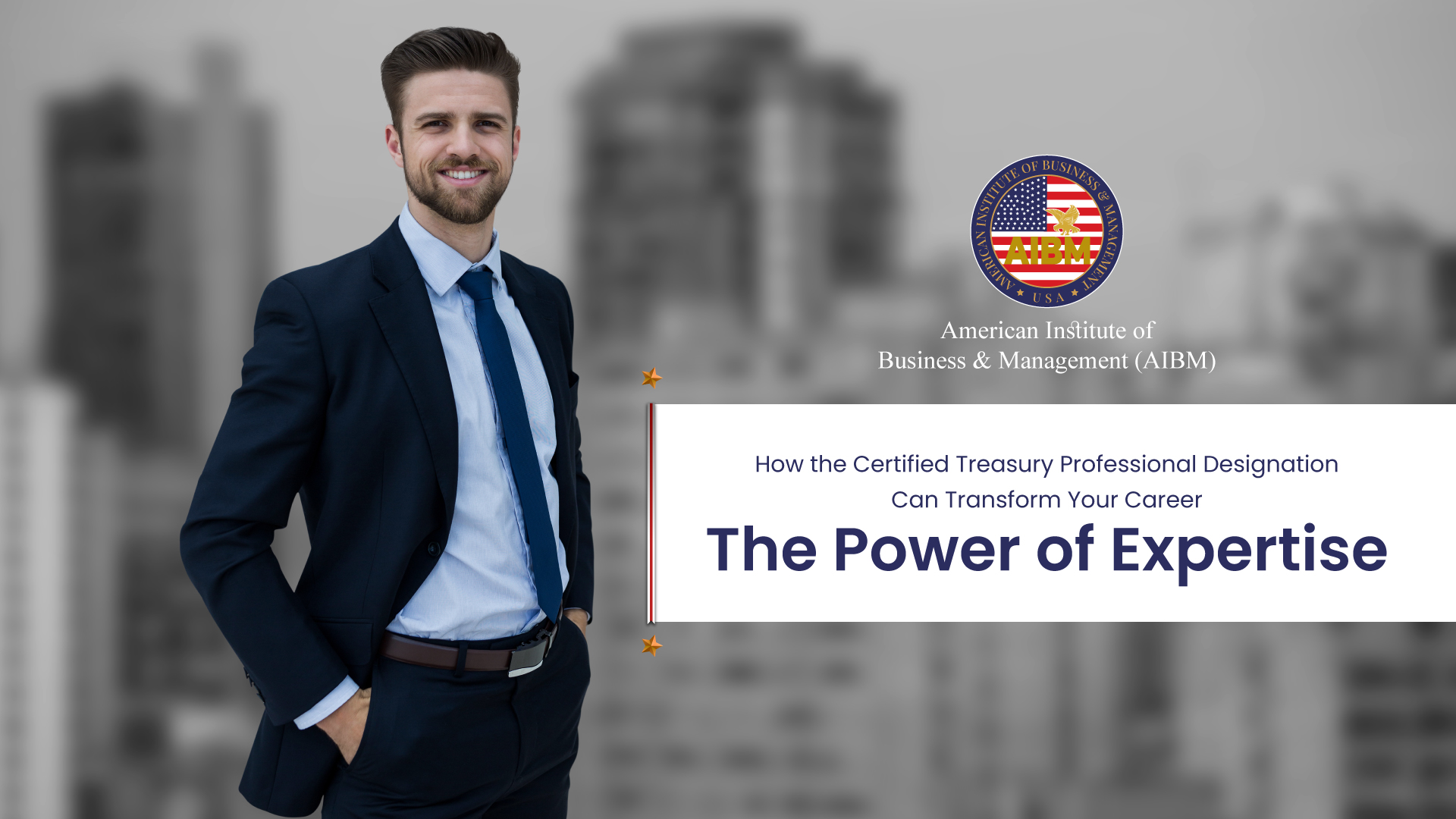 Introduction:
Organizations are continuously looking for qualified individuals who can efficiently manage their financial resources, reduce risks, and maximize cash flow in the dynamic and complex financial environment of today. In order to provide financial professionals with the information, skills, and competence required to succeed in the field of treasury management, the Certified Treasury Professional (CTP) certification steps in as a respected and comprehensive accreditation. In this article, we'll look at what the CTP certification involves, why it matters to the finance sector, and the various advantages it confers on holders.
What does the CTP (Certified Treasury Professional) Certification mean?
The Association for Financial Professionals (AFP) offers the Certified Treasury Professional (CTP) certification, a well respected distinction. For finance professionals all across the world, the AFP is a top professional organization that offers tools, training, and certification programs. The CTP credential denotes that a person has proven their competence in key areas of financial management, including cash and liquidity management, risk management, and treasury management.
Qualifications and prerequisites:
Candidates who want to pursue the CTP certification must fit certain requirements for eligibility laid forth by the AFP. Candidates typically need to have two years of professional experience in treasury management or a closely connected financial field. They must also satisfy one of the following educational requirements:
a bachelor's degree or higher plus two years of work experience in finance or treasury.
an associate's degree plus four years of work experience in finance or treasury.
No degree, but six years of treasury or financial industry experience.
A candidate's knowledge of numerous financial topics, cash management techniques, risk management, and financial technologies is evaluated through multiple-choice questions on the CTP exam.
CTP Certification's Importance:
Gaining the CTP certification demonstrates a financial professional's commitment to improving their treasury management knowledge and abilities. It demonstrates their ability to carry out crucial financial chores and make strategic decisions.
Credibility and Trust:
The CTP accreditation is well-known in the finance sector, giving professionals credibility and trust from employers, coworkers, and clients.
Career Advancement:
Possessing a CTP certification makes it possible to advance your position within a business and access new prospects.
Industry Recognition:
People who hold the CTP designation are regarded as authorities in their industry, which increases their marketability in a crowded employment market.
The community of CTP holders offers access to a sizable network of treasury experts, facilitating beneficial interactions and knowledge-sharing.
CTP Certification Advantages:
Comprehensive Knowledge:
The CTP certification addresses a broad variety of treasury management issues, such as cash flow forecasting, working capital management, risk reduction, and financial regulations. Professionals are better equipped to handle issues in the actual world with this expertise.
Risk reduction:
CTP holders have the knowledge to recognize and control financial risks, guaranteeing that their organizations are able to withstand changing economic situations.
Optimal Cash Management:
CTP specialists may assist firms in optimizing cash positions, lowering borrowing costs, and maximizing returns on investments by having a thorough understanding of cash flow management procedures.
Strategic Decision-Making:
People with CTP certifications can contribute to strategic decision-making processes by offering insightful analyses and suggestions that will help businesses flourish.
Cost Savings:
Organizations may experience cost savings as a result of CTP specialists' capacity to streamline financial procedures and put in place effective treasury practices.
Getting ready for the CTP Exam:
The CTP exam is a demanding test that necessitates careful planning. Candidates should think about the following advice to succeed:
Review the Exam Content Outline to become familiar with the subjects and subject areas that the AFP has listed for the CTP exam. Concentrate your planning on these important areas.
Study Resources:
To improve your comprehension of treasury management ideas, use study aids, textbooks, and online resources.
Practice with sample questions to gauge your readiness for the test by using practice examinations and sample questions that mimic the real thing.
Engage in Study Groups:
Form study groups with other candidates, share knowledge, and talk about difficult ideas.
Time management:
Create a study plan to allot enough time to each topic and guarantee thorough preparation.
To sum up, A finance professional's commitment to excellence in treasury management is demonstrated by the Certified Treasury Professional (CTP) credential, which is more than just a title. People can exhibit their knowledge, trustworthiness, and dedication to staying on the cutting edge of the banking business by obtaining the CTP credential. The CTP certification opens up a world of options for finance professionals looking to understand the financial frontier thanks to its potential for job progression, networking opportunities, and industry recognition.