Increasing Financial Resilience: Demand for Certified Corporate Treasury Professionals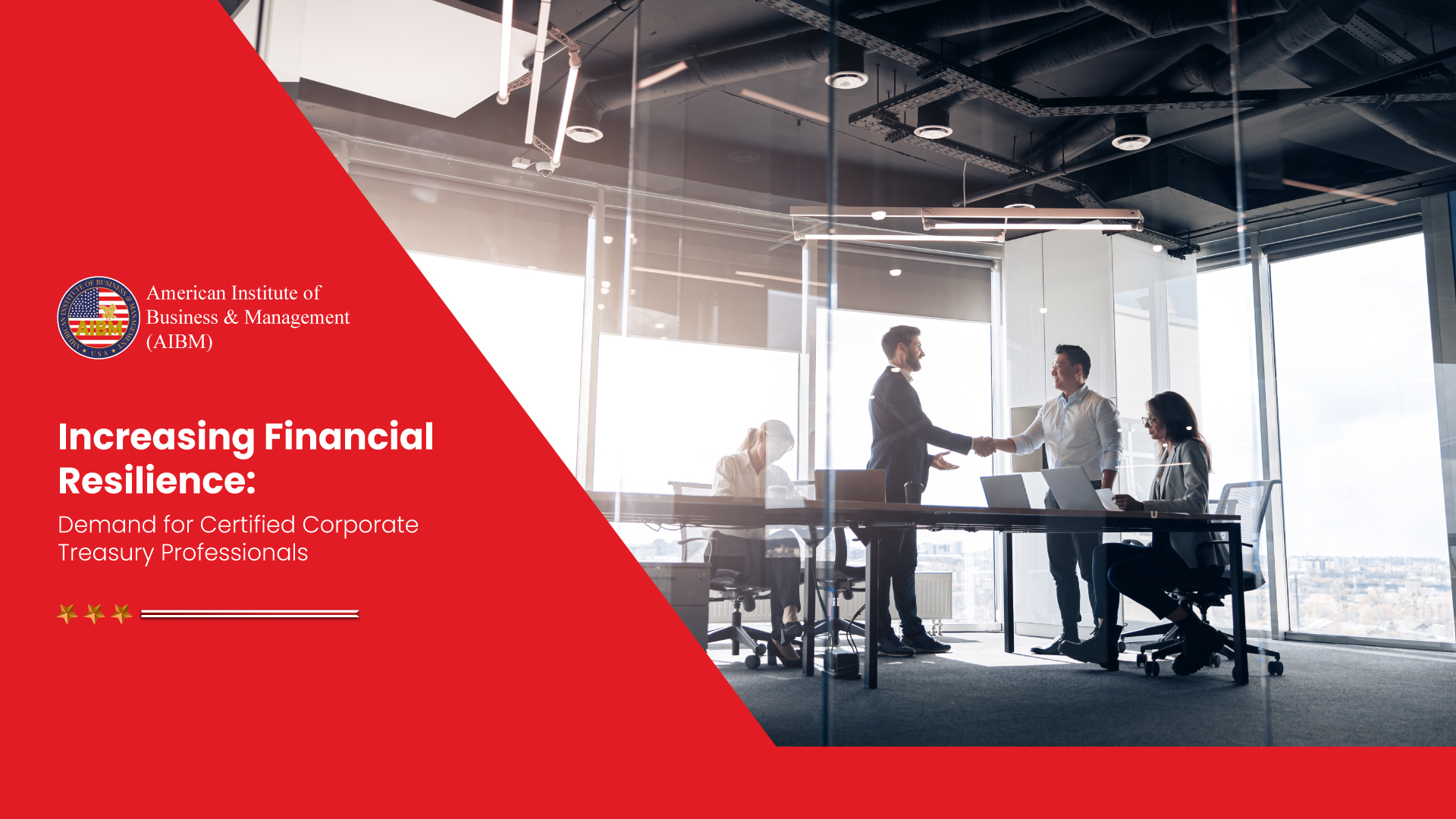 The function of a corporate treasury professional is essential to an organization's financial stability and performance in today's dynamic business environment. The demand for highly qualified and credentialed people in corporate treasury has never been higher as firms negotiate complicated financial markets, risk management, and cash flow optimization. In this article, we'll discuss the value of earning the Certified Corporate Treasury Professional (CTP) designation and how it can lead to a fruitful and significant career in the field of finance.
The Function of a Corporate Treasury Expert
Professionals in corporate treasury are crucial to managing an organization's financial resources, guaranteeing liquidity, reducing financial risks, and improving cash flow. They are in charge of making strategic financial choices that have an effect on a company's profitability, continuity, and expansion.
Important Tasks for a Corporate Treasury Professional:
Managing the company's cash position and maximizing liquidity to meet financial obligations is known as cash management.
Risk management is the process of identifying and reducing financial risks, such as those related to credit, interest rates, and foreign exchange rate variations.
Financing: Obtaining cash for the company's operations and expansion plans through loans, bonds, or other financial instruments.
Investment management is the process of investing extra money to increase returns while preserving liquidity.
Developing financial strategies and predictions in conjunction with other departments is known as financial planning.
Compliance: Ensuring that the business conforms with the rules governing accounting and reporting.
The Importance of Certification
A big step toward developing your corporate treasury career is earning the Certified Corporate Treasury Professional (CTP) designation. Here are some strong arguments in favor of certification:
Expertise: Having a CTP certification shows that you are knowledgeable about corporate treasury management and that you are committed to remaining up to date on best practices in your field.
professional Advancement: CTP certification is a useful asset for professional advancement because many businesses prefer or demand it when hiring for senior treasury roles.
Opportunities for Networking: Becoming a member of a group of CTP-certified professionals gives you access to a sizable network of peers and industry experts, promoting information sharing and career advancement.
International Recognition: The CTP certification is acknowledged on a global scale, providing access to international job prospects.
Competitive Advantage: Having CTP certification makes you stand out from other applicants in a competitive work market and improves your chances of getting the position you want.
Process of CTP Certification
Individuals must successfully complete a demanding certification process in order to become Certified Corporate Treasury Professionals. The following steps are often included in this process:
Make sure you are eligible by making sure you have the necessary training and experience in financial or treasury-related positions.
Study: Review pertinent readings, go to classes, and take practice exams to get ready for the CTP exam.
CTP Exam: Take the CTP exam, which covers a variety of corporate treasury management topics like cash and treasury management, risk management, and financial planning, and pass it.
Continuing Education: By taking part in ongoing professional development and continuing education events, you can keep your CTP certification.
CTP Certification Benefits
After discussing the significance of CTP certification, let's examine the advantages it provides:
Enhanced information: Earning a CTP certification gives you extensive information and corporate treasury skills that will help you flourish in your position.
Career Possibilities: Obtaining CTP certification broadens your career options and qualifies you for more senior and specialized corporate finance roles.
Increased Earning Potential: Professionals with CTP certification frequently make more money than uncertified peers.
Industry Recognition: The CTP accreditation is regarded as a symbol of competence in corporate treasury by both employers and peers.
Professional Development: By keeping up with industry developments and best practices, you can maintain your CTP certification.
To sum up, Being a Certified Corporate Treasury Professional (CTP) is a noteworthy accomplishment that can completely change the course of your financial career. The need for knowledgeable treasury specialists is expanding as organizations face more complex financial issues. By earning your CTP certification, you establish yourself as a leader in the industry, prepared to make wise financial decisions that will propel the growth of your business. The CTP certification is your entry ticket to the thrilling and exciting world of corporate treasury management, whether you're an aspiring treasury professional or an experienced expert eager to enhance your career.