Rise to the Top: How Certification as an IT Manager Can Boost Your Career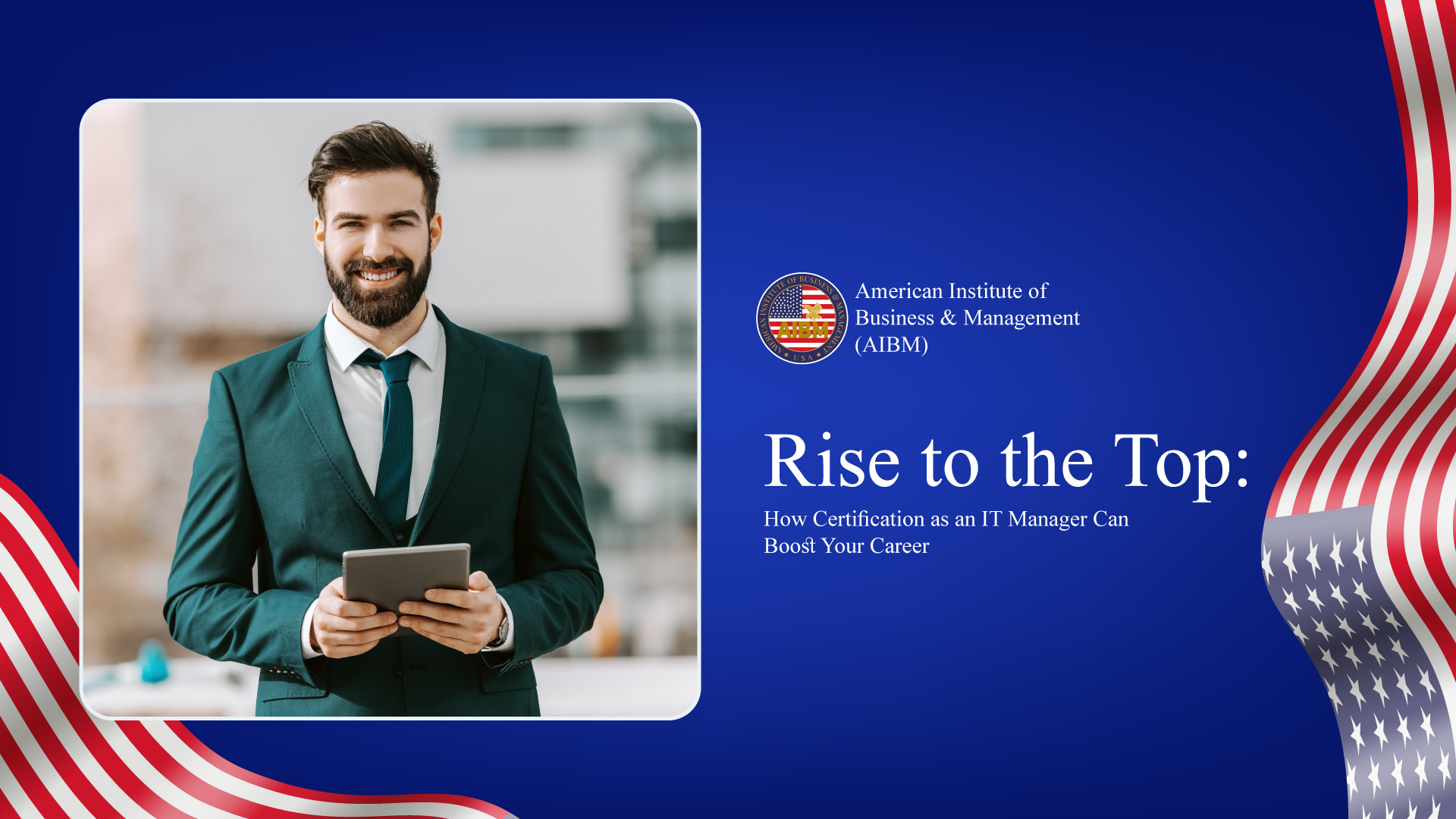 IT professionals confront constant challenges in keeping up with new technologies, ensuring data security, and optimizing IT infrastructure in today's rapidly changing technological landscape. Many IT professionals aspire to become Certified IT Managers so that they can flourish in this dynamic environment. In this in-depth blog post, we will discuss the value of earning the Certified IT Manager credential and how it can propel your career to new heights.
What is an IT Manager Certification?
Certified IT Manager (CITM) is a prestigious certification conferred to IT professionals who have proven their IT management expertise. It is a globally recognized credential that validates a candidate's ability to effectively lead IT teams, manage projects, align IT with business objectives, and ensure the efficient use of technology resources.
Why Pursue IT Manager Certification?
One of the most important reasons to become a Certified IT Manager is the career advancement opportunities it affords. In a competitive job market, the CITM credential on your resume distinguishes you from other candidates and makes you a desirable candidate for leadership positions.
Potential for Greater Earnings: Certified IT managers typically command higher salaries than their non-certified counterparts. This is because organizations value the skills and knowledge that come with certification, thereby increasing the value of certified professionals to their employers.
The CITM certification equips you with a wide spectrum of leadership skills, such as project management, strategic planning, and team management. These skills are not only valuable for your IT position, but they are also transferable to other business areas.
Global Recognition: The CITM certification is globally acknowledged and respected. This certification can help you stand out on the global job market, whether you're seeking employment in your native country or exploring opportunities abroad.
Staying Current: As the IT industry evolves significantly, it is essential to keep up with the newest trends and technologies. Pursuing CITM certification necessitates ongoing education and professional development, ensuring that you maintain cutting-edge IT skills.
The Path to Certification as an IT Manager
To become a Certified IT Manager, the following stages are typically required:
Meet Eligibility Requirements Eligibility requirements may vary based on the certifying body, but typically include a minimum number of years of IT experience and a relevant education.
Choose an Accreditation Program: Choose a certification program that is reputable and aligns with your career objectives. CompTIA IT Manager, Certified Information Systems Manager (CISM), and Project Management Professional (PMP) are common options.
Certification examinations are difficult and require extensive preparation. This may involve enrolling in training courses, conducting independent study, and taking practice exams.
Pass the Exam: Once you are assured in your knowledge and abilities, you can take the certification exam. Passing the exam demonstrates your knowledge and dedication to the discipline of IT management.
Maintain Certification: The majority of IT management certifications necessitate ongoing professional development and recertification to ensure that certified professionals remain abreast of industry developments.
The Advantages of Being an Accredited IT Manager
As a Certified IT Manager, you will develop strong leadership skills that are applicable in a variety of career contexts. You will be better equipped to oversee IT teams, manage projects, and make strategic decisions that align with the objectives of your organization.
Problem-Solving: Certification equips you with the problem-solving skills necessary to address issues in an effective and efficient manner.
Business Alignment: It is crucial for modern organizations to comprehend how IT objectives align with business objectives. CITM certification teaches you how to bridge the divide between IT and business, ensuring that technology contributes to the success of an organization.
Opportunities for Networking: Certification programs frequently offer networking opportunities with other IT professionals and industry experts. Networking can open the door to new career opportunities and invaluable insights.
CITM certification increases one's confidence in their abilities. Knowing that you possess the knowledge and abilities necessary to excel in your role can have a positive effect on your performance and job satisfaction.
In a constantly evolving labor market, CITM certification can provide a measure of job security. Certified professionals are more likely to be retained and promoted by their employers.
To sum up, Becoming a Certified IT Manager is a significant career achievement for an IT professional. It not only opens doors to higher-paying positions, but also equips you with the knowledge and skills necessary to excel in leadership roles. Organizations rely on certified IT administrators to navigate complex challenges and drive innovation in a world driven by technology. Consider pursing the Certified IT Manager credential if you want to advance your IT career and gain access to a world of opportunities.