The Power of Certification: Unlocking Equipment Manager Success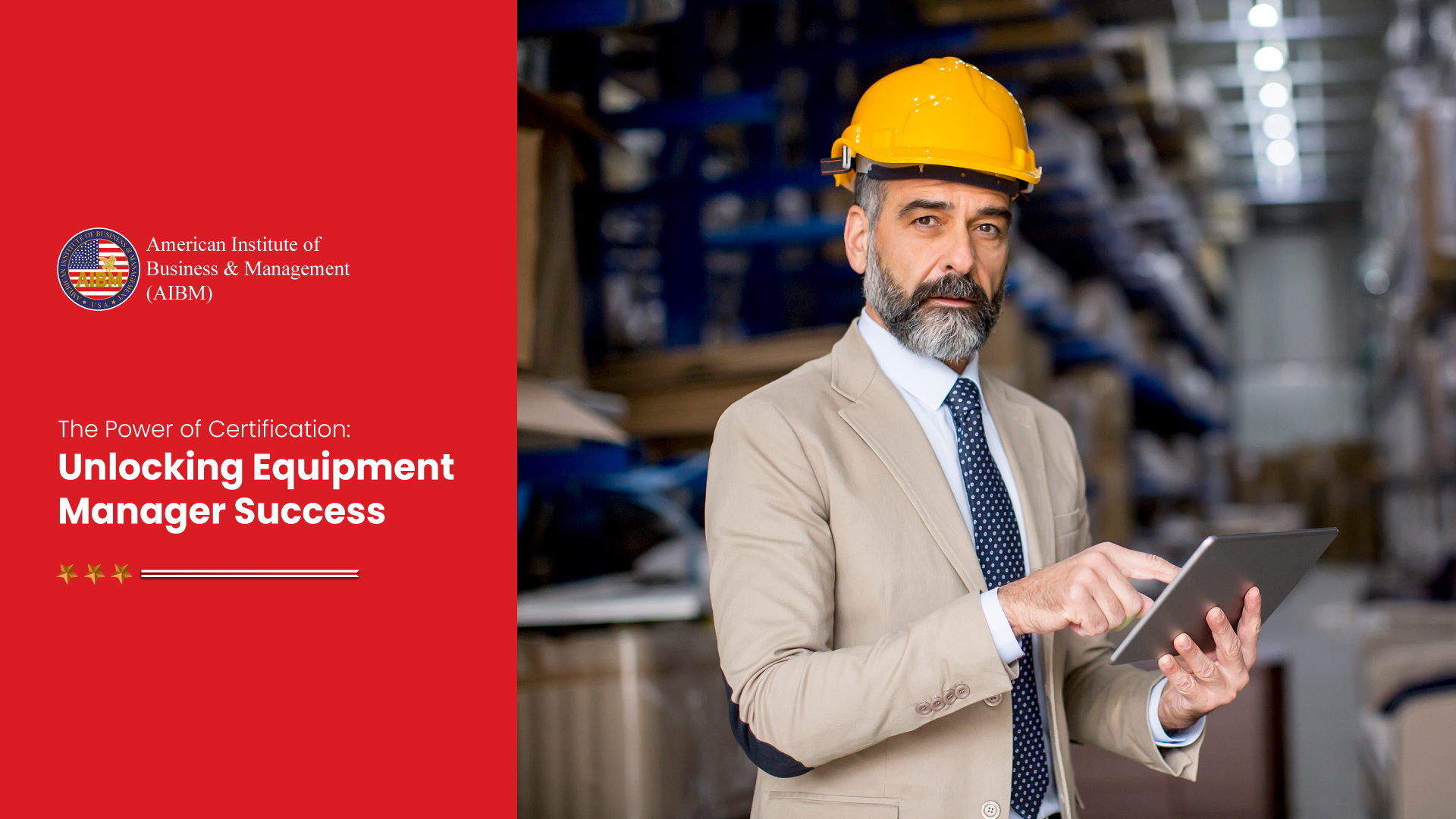 Effective equipment management is crucial to assuring operational efficiency, cost control, and long-term sustainability in asset-intensive industries. The Certified Equipment Manager (CEM) credential serves as a potent validation of a professional's expertise and dedication to excellence. In this comprehensive guide, we will investigate the realm of equipment management, the significance of the CEM designation, and the steps required to become a certified equipment manager.
Recognizing the Function of an Equipment Manager
Before delving into the complexities of certification, it is crucial to understand the central position of an equipment manager in a variety of industries, including construction, manufacturing, transportation, and agriculture. Equipment managers are accountable for a variety of assets, such as heavy machinery, vehicles, tools, and technology. Their principal goals consist of:
Maximizing the useful life of equipment by ensuring appropriate maintenance, repair, and replacement strategies constitutes optimizing asset lifecycle.
Controlling operational costs associated with equipment, such as maintenance, fuel, and interruption costs.
Compliance and Safety: Ensuring that equipment conforms to industry standards and safety regulations in order to safeguard employees and assets.
Increasing operational productivity and efficiency by minimizing equipment outage and optimizing usage.
Financial Accountability: Managing budgets, acquisition, and depreciation schedules in accordance with organizational objectives.
Importance of the Certified Equipment Manager (CEM) Qualification
The Certified Equipment Manager (CEM) credential is awarded to professionals who have demonstrated a high level of equipment management competence and expertise. Here's why obtaining this certification is crucial:
Expertise Verification
CEM certification verifies a professional's knowledge of equipment management, providing employers and colleagues with assurance.
Professional Advancement
As the CEM credential demonstrates a commitment to excellence and the capacity to effectively manage assets, it frequently provides a career advantage to professionals who hold it.
Industry Credibility
CEM certification is globally recognized and esteemed in industries where equipment management is essential.
4. Networking Possibilities
CEM-certified professionals acquire access to a network of peers and equipment management experts, fostering collaboration and the exchange of knowledge.
Obtaining Certified Equipment Manager (CEM) certification.
Acquiring the CEM certification is a process that requires commitment, knowledge, and experience. Here is a detailed guide on how to become a certified equipment manager:
1. Meet Eligibility Criteria
Before pursuing the CEM designation, ensure that you satisfy the eligibility requirements established by the certifying body, which are typically related to educational requirements and equipment management work experience.
2. Select an Accreditation Program
Choose a reputable certification program that provides thorough CEM exam training and preparation. Typical topics covered by these programs include equipment selection, maintenance, safety, and financial management.
3. Study and Get Ready
Devote considerable time to studying the course materials provided by the certification program of your choice. Utilize practice exams to determine your level of preparedness.
Pass the CEM Examination
Register for and take the CEM exam once you feel sufficiently prepared. Be careful to adhere to the exam's instructions and requirements.
5. Keep Your Certification Current
You may be required to engage in ongoing professional development and adhere to the certifying body's code of ethics in order to maintain your CEM certification.
The Influence of the CEM Certification
Certified Equipment Manager (CEM) certification represents a commitment to optimizing asset management practices, assuring safety and compliance, and contributing to the success of organizations in a variety of industries. With this certification, you can leverage your expertise to increase operational efficiency, reduce costs, and have an enduring impact on industries with a high asset concentration.
To sum up, the Certified Equipment Manager (CEM) credential represents a significant opportunity for equipment management professionals seeking to advance their careers. In addition to gaining recognition for your expertise, you contribute to the optimization of asset management practices in your industry by pursuing this certification. The CEM designation opens doors to a rewarding career that revolves around effective asset management, making it a valuable investment in your professional journey. Start your journey toward becoming a Certified Equipment Manager today and become an asset management industry leader.