The Value of a Certified Hotel Administrator Certification in Creating a Firm Foundation for Success in the Hospitality Industry.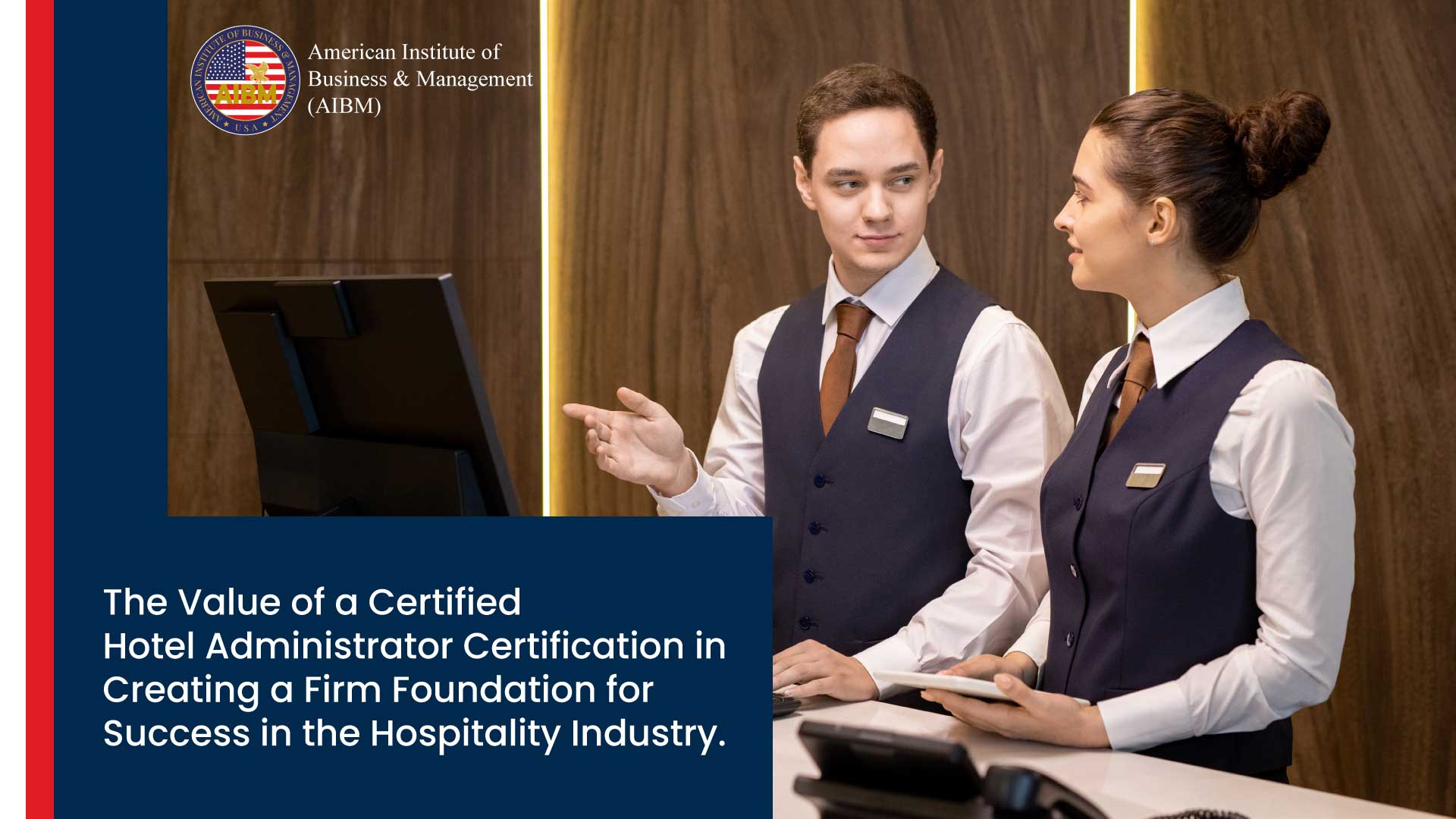 The success of a hotel or resort rests on its capacity to deliver excellent visitor experiences in the fiercely competitive hospitality sector. A professional who has obtained a certification that acknowledges their knowledge and experience in the hospitality sector is known as a Certified Hotel Administrator (CHA). In this article, we'll discuss the duties of a Certified Hotel Administrator and how earning this certification can help hospitality industry individuals and enterprises.
What is a Certified Hotel Administrator? 
The American Hotel & Lodging Educational Institute (AHLEI) grants the Certified Hotel Administrator (CHA) certification as a professional credential. It is intended for seasoned hospitality professionals who have proven their knowledge and skills in a variety of hotel operations and is regarded as the finest qualification in the business.
Candidates must have at least three years of experience in a managerial or supervisory position in the hospitality business to be eligible for the CHA certification. They must also pass a comprehensive exam that covers subjects including leadership, marketing and sales, revenue management, and financial management.
Why Is the Hospitality Industry Important to a Certified Hotel Administrator?
A CHA certification guarantees that professionals are knowledgeable about the most recent industry trends and best practices. The hospitality industry is continually changing. CHAs have a thorough awareness of the nuances of hotel operations and may offer insightful opinions and suggestions to optimize the performance of a hotel overall, enhance visitor satisfaction, and increase revenue.
A CHA certification also shows a dedication to professionalism and competence, which can help a professional's credibility and reputation in the field. As many employers favor hiring or promoting applicants with advanced degrees, it can also increase their career opportunities and earning potential.
A Certified Hotel Administrator's Advantages
There are many advantages to hiring a CHA for hospitality companies. CHAs are equipped with the knowledge and experience to enhance a range of hotel operations, including guest services, revenue management, and employee growth and training. Through the use of cutting-edge techniques and technology that improve customer experiences, they can also assist organizations in remaining competitive.
Additionally, CHAs are well-versed in industry norms and regulations, which can assist organizations avoid fines and other legal repercussions. With their education and experience in crisis management, they may also assist firms in navigating crises and difficult situations, such as natural catastrophes or public health problems.
Opportunities for Professional Development for Hotel Administrators
For those working in the hospitality industry, earning a CHA certification can lead to several career growth prospects. CHAs can advance the management ladder to take on more responsibility or even buy or run their own hotels or resorts. In order to assist other organizations in enhancing their operations and customer experiences, they can also seek consulting or training positions.
The earning potential of a professional can also increase with a CHA certification. Depending on their degree of experience and competence, some professionals may earn as much as $100,000 or more annually, according to PayScale, which estimates the average income for a Certified Hotel Administrator at $63,000.
To sum up, for those in the hotel industry wishing to advance their knowledge, abilities, and career prospects, a Certified Hotel Administrator certification is a crucial credential. CHAs are acknowledged as subject matter experts and may offer insightful opinions and suggestions to enhance hotel operations and visitor experiences. Employing a CHA can benefit hospitality firms in a variety of ways, including greater performance, improved guest experiences, and the capacity to maintain competitiveness in a sector that is always changing. A CHA certification is a wise investment for any hospitality professional wishing to enhance their career due to its many advantages and career options.